METRIC Provides Access to Instrumentation
Researchers can now schedule access to mass spectrometry instrumentation through an online system offered by METRIC, the university's new Molecular Education, Technology, and Research Innovation Center. Nuclear magnetic resonance and X-ray crystallography instruments will be fully integrated into the system this summer.
It's no surprise that 99.9 percent of scientific papers require some form of measurement for data collection. However, it's expensive to buy, maintain and update scientific instruments, especially for individual departments or research faculty.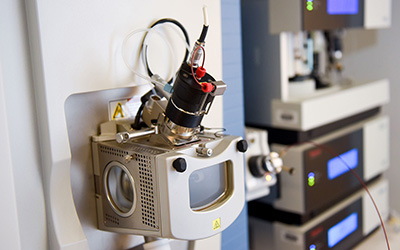 METRIC aims to alleviate this economic burden by making state-of-the-art, scientific infrastructure and instrumentation such as mass spectrometry, magnetic resonance and X-ray crystallography available to all departments and faculty.
"The overarching goal of METRIC is to increase the quality of education for undergraduate and graduate students, and to increase the sophistication and impact of the research that we do daily at the university," says METRIC Director Dave Muddiman, the Jacob and Betty Belin Distinguished Professor of Chemistry. "A little over a year ago, the idea was to bring together a bunch of very small core facilities at NC State and to integrate those facilities into a research innovation center that supports the entire university."
METRIC allows departments to combine resources for updating and maintaining research equipment and lab space. One of the biggest benefits from merging these facilities will come from instrument maintenance contracts that will result in near real time repairs. Another benefit of combining resources is that METRIC can run fewer instruments at a higher efficiency and help NC State recruit top-notch faculty and graduate students with a new showcase facility.
METRIC also automates instrument billing, safety training and measurement data storage through MENDIX, an online platform. Previously, these tasks were all performed manually, and tracking safety training was extremely difficult.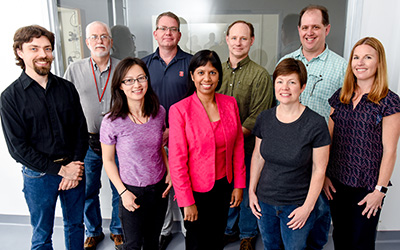 For dye chemist Nelson Vinueza, assistant professor in the Department of Textile Engineering, Chemistry and Science, METRIC will be a tremendous asset for his research on the Max Weaver Dye Library.
The library, donated to NC State by Eastman Chemical, contains over 98,000 dyes housed in the College of Textiles. These dyes are stored in vials with hand-drawn labels.
Vinueza will characterize these dyes with the instruments at METRIC to confirm that their chemical structures match their labels. Then collaborators may begin testing dyes for a variety of applications ranging from medical stains to solar cell design.
"We want to see what's out there because who knows if we have a unique dye from our dye library that can be very specific for staining cancer cells. This can create a great impact," Vinueza says. "Now we have to fully characterize this dye. Moving forward with the Max Weaver Dye Library, METRIC will be very convenient because my students can get trained on mass spectrometry to run their quality control, and while they are there, they can prepare their samples for nuclear magnetic resonance."
"Personally, knowing about METRIC opens your mind to different types of research," Vinueza says. "I've always wanted to do imaging mass spectrometry research. Sometimes just getting a mass spectrometer is very hard. Now, I can go to the instrument, get trained and use it at the time it is available. I don't have to wait."
This post was originally published in NC State News.