Jazz Converges With Math and Painting in New Exhibit
Durham artist and jazz saxophonist Vernon Pratt once came up with a simple idea for an artwork focused on the number 16. You take a rectangle of canvas about two feet by three feet; divide it into 256 small rectangles (the product of 16 squared); divide each rectangle into 16 tiny black and white rectangular units; and then paint every possible pattern of 16 black and white units arranged in a rectangle.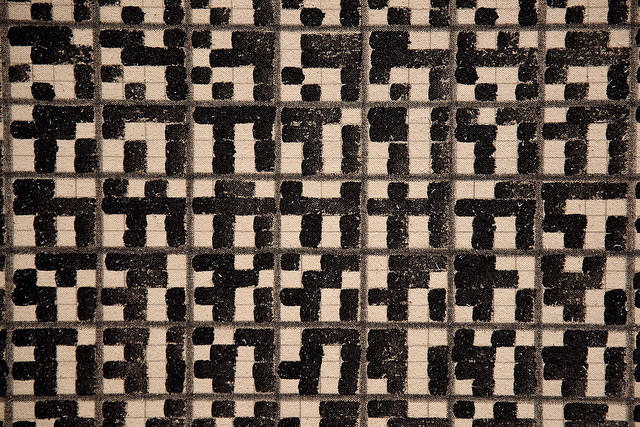 The mathematicians among you may have already realized you'd need far more than one canvas, or even 16 canvases, to paint every possible pattern of 16 black and white units arranged in a rectangle. In the end, Pratt used 256 canvases — resulting in an artwork 18 feet high and 110 feet wide — before he had exhausted all the possible combinations. Pratt's simple idea became fiendishly complex in the execution, which is why he liked to say, "Simple is complicated enough."
Pratt's complex simplicity will be on display when the Gregg Museum of Art & Design presents All the Possibilities of Filling in Sixteenths (65,536). The exhibition opens with a free public reception on Thursday, Oct. 11, at 6 p.m. (This is subject to cancellation due to weather).
The opening reception will include an introduction by Scott Laird, a music instructor at the North Carolina School of Science and Math in Durham.
Although Pratt completed the piece in 1982, this will be the first time the huge artwork has ever been shown in its entirety.
The exhibition will also feature an original percussion composition by Rich Holly, executive director of Arts NC State and a longtime professional percussionist. The composition, based on Pratt's explorations of jazz and mathematics, will play on a loop in the gallery where Pratt's artwork is displayed. (Watch the video below to see a portion of the exhibit and hear a brief excerpt of Holly's composition.)
This post was originally published in NC State News.