New Initiative Aims to Put NC State at the Forefront of Viral Vector Manufacturing
Viruses have been around for hundreds of millions of years. And for the vast majority of their existence, they've presented nothing but harm to human health.
Over roughly the past decade, though, we've figured out how to turn certain viruses into a tool for good. Since they naturally know how to target cells they want to infect, non-pathogenic viruses can be used to deliver genetic material directly into cells for treatment or research.
These modified viruses are a cutting-edge tool known as viral vectors.
Certain viral vectors can serve as a vehicle for gene therapies, which could one day treat a variety of diseases, from cancer to diabetes. And viral vectors' potential applications go far beyond human health, as well.
"Like you can engineer human cells using viruses, you can engineer plant cells or animal cells," says Stefano Menegatti, an associate professor and University Faculty Scholar in the Department of Chemical and Biomolecular Engineering and the Golden LEAF Biomanufacturing Training and Education Center at NC State University. "It's just a different flavor of the same tool."
However, at the moment, "we really don't know what makes a good virus — an efficacious gene therapy vector," Menegatti says.
And the bigger problem is that viral vectors "aren't easy to make."
Menegatti says that where we stand today is comparable to where we stood about three decades ago with antibody treatments. Today, Menegatti says we know how to manufacture antibodies by the metric ton, but 30 years ago, "antibodies were not easy to make outside the lab."
"We don't know how to make viruses at the quantities and the quality comparable to antibodies," Menegatti says. And that's because "we had to come up with biomanufacturing facilities and industrial sites dedicated to the production of these highly complex biologics."
In short, we lack the know-how and number of well-trained workers themselves to turn the vision those like Menegatti have of viral vectors into reality.
The North Carolina Viral Vector Initiative in Research and Learning (NC-VVIRAL) aims to address these challenges by building partnerships among academia, industry and government — starting at the local level and gradually building to a global scale — in order to ultimately become a boon to the biomanufacturing of viral vectors in North Carolina and beyond. NC-VVIRAL wants to be a hub for science, technology, and education and outreach — where clients can come for a portfolio of intellectual property ready to license, custom solutions tailored to specific industry or research needs, and both workforce training as well as top-notch students to recruit.
"Our end goal is to establish NC-VVIRAL as a global foundry of viral vector biomanufacturing technologies, serving small-to-large industries and training the workforce of tomorrow," says Michael Daniele, a co-founder of NC-VVIRAL and an associate professor and University Faculty Scholar in the Department of Electrical and Computer Engineering and the Joint Department of Biomedical Engineering.
NC-VVIRAL, founded by Daniele and Menegatti, launched a lab on NC State's Centennial Campus last July. And since then, NC-VVIRAL has already continued to make plenty of headway.
"We've rapidly gathered strong support across local universities, state organizations and global life-science industries," Menegatti says.
NC-VVIRAL brings together broad, multidisciplinary expertise from NC State, Duke University, the University of North Carolina at Chapel Hill, and other schools around the state, as well as Merck and several more partners in the biopharmaceutical and life sciences industries.
At the lab's inauguration on July 22, keynote speaker Michael Schulte, a senior R&D director at Merck KGaA, congratulated Menegatti and Daniele and wished them luck in their "research adventure."
"Merck is looking forward to being a key partner in your initiative," Schulte said in his opening remarks.
Thanks to support from NC State's Office of Research and Innovation, NC-VVIRAL has roughly 3,000 square feet of affiliated lab space — with over $1.5M worth of state-of-the-art equipment.
And with the added help of a $1.7M research grant from the Food and Drug Administration, along with the support of their industry sponsors, Menegatti and Daniele have hired a team of more than 30 junior researchers to staff the lab and run the equipment — which will provide these undergraduate, graduate and postdoctoral students with the hands-on experience they need to hit the ground the running when they enter the workforce.
The students will be supervised by a team of professors and researchers across NC State, Duke, UNC-Chapel Hill, and UNC Greensboro and North Carolina Agricultural and Technical State University's Joint School of Nanoscience and Nanoengineering.
Entering the Early Days of a New Era
Throughout his time in undergraduate and graduate school, Menegatti says the prevailing problem all the biggest names in the field were seeking to solve was "how to make antibody treatments available to everyone."
"And now we're writing the next chapter, hoping to provide a significant contribution on how to make viral vector-based treatments for everyone," Menegatti says.
But that's where the similarities between the manufacture of antibodies and viruses end.
"When you look at the manufacturing process for antibodies, you can look at one in Switzerland, one in the U.S., one in China — and they'll all look the same," Menegatti says. "That's what we call a 'platform.' Everyone uses the same recipe, everyone uses the same tools, to make analogous products."
However, at this early stage for viral vectors, not only do we lack a standard manufacturing process but there's not yet even agreement on whether a standard process in the traditional sense is possible in the first place.
"Antibodies all look the same. They target different diseases, but they all look the same. Viruses don't look the same," Menegatti says. "So does it even make sense to think of a platform process — one recipe to make them all? Some people say yes, some people say no."
To find the answer to this question, NC-VVIRAL is producing viral vectors at a small scale, using three different families of viruses: adenoviruses, adeno-associated viruses and lentiviruses.
Eduardo Barbieri, a Ph.D. student studying chemical engineering at NC State, focuses on the lentivirus family for his work as a graduate research assistant with NC-VVIRAL. Barbieri says the tests he runs on a day-to-day basis seek to gauge either the expected safety or efficacy of a virus that has the potential to be used as a viral vector.
"Every time you make viral vectors, you have contaminants or things you want to get to rid of," Barbieri says.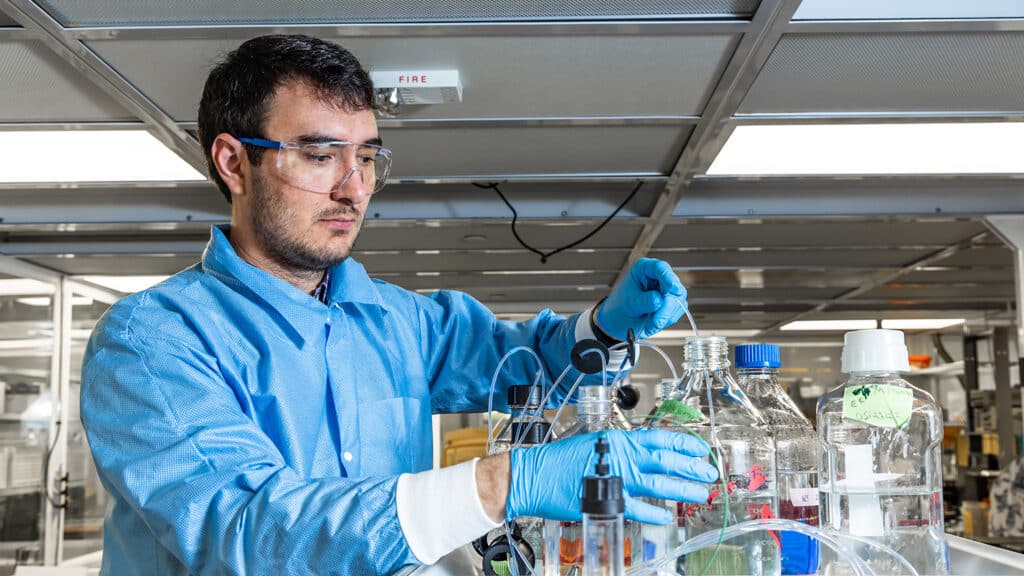 Just like any pharmaceutical, purity is paramount to safety. Therefore, many of the tests Barbieri runs are to determine how well the peptides they use to "capture" the virus were able to "filter" out all the unwanted byproducts.
But it's equally important that a viral vector is actually able to reach its target cells reliably and predictably, which is why they also run "cell-based assays, looking at the ability of the virus to target cells." Barbieri says they use a green fluorescent protein to track which cells were successfully targeted.
"And it's very exciting because there is no recipe. So the industry is also trying to figure out the best ways," Barbieri says.
Building Ties Across the Triangle and Beyond
The Research Triangle has become one of the nation's top hubs for biotechnology innovation. The region leads the country in vaccine manufacturing — and has the largest concentration of contract research organizations in the world.
This is in no small part thanks to the talent available at the Triangle's academic institutions.
While NC State students like Barbieri work in NC-VVIRAL labs in EBIII, collaborators across the Triangle also contribute each day to the initiative's ambitious mission.
At UNC-Chapel Hill's Neuroscience Center and BRAIN Initiative NeuroTools Vector Core, Kim Ritola produces and designs viral vectors, for different therapies, that Daniele says "go into the NC-VVIRAL pipeline."
Menegatti says that without Ritola, they wouldn't even be able to dream of getting their hands on these "real therapeutic viral vectors."
"A unified research effort to establish a technology portfolio dedicated to viral vectors and gene therapies is the only pathway towards modern medicine," Ritola says.
Also part of this unified research effort are multiple collaborators from Duke University who bring expertise in encyclical chemistry, machine learning or systems engineering, along with data scientists Alex Tropsha, the K.H. Lee Distinguished Professor in chemical biology and medicinal chemistry and an adjunct professor in UNC's Department of Computer Science and the Joint Department of Biomedical Engineering, and Rada Chirkova, a professor in NC State's Department of Computer Science, as well as Sherine Obare, a professor of nanoscience and dean of NC A&T and UNCG's Joint School of Nanoscience and Nanoengineering.
The "fantastic" nano- and microfabrication facilities Obare oversees will help ensure NC-VVIRAL designs its analytical devices such that they can be mass-manufactured, deployed and distributed seamlessly and in a way "that's easy for operators to interface with." That's also where expertise in fields such as data science and machine learning factor into the equation.
Menegatti says the instruments used in each step of a manufacturing process like this — from the bioreactors in which the cells are first grown, to purification equipment, to analytical tools — move at a different pace. And "for manufacturing processes to be successful — especially when the product is so complex and delicate, like viruses — they have to be harmonized," Menegatti says.
Plus, once the processes have been perfected as best as possible, it then takes "lots and lots and lots of data" to make a compelling case to federal approvers.
"Clean, elegant databases provide a powerful way for engineers to demonstrate that their processes are efficient and produce a good, safe product," Menegatti says.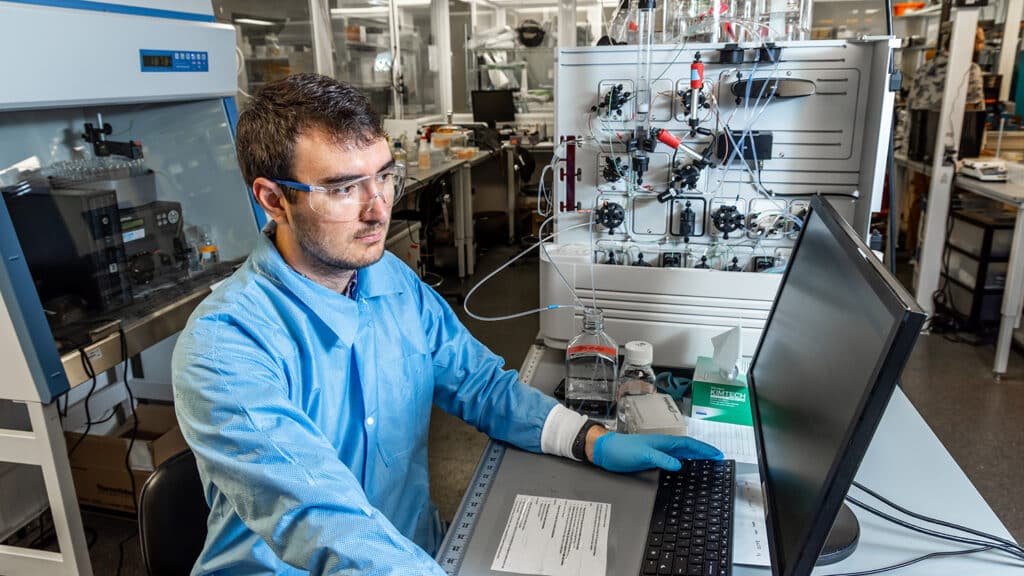 Here at NC State, NC-VVIRAL will also collaborate closely with the Molecular Education, Technology and Research Innovation Center (METRIC) and the Golden LEAF Biomanufacturing Training and Education Center (BTEC); they'll work with METRIC for further help producing and analyzing data and will partner with BTEC to develop and deliver training modules and other opportunities geared toward professionals already working in the industry.
Nearly 70,000 North Carolinians work in the life sciences industry, roughly half of whom are employed by companies based in the Research Triangle region. A number of these workers have received BTEC training before; BTEC already offers advanced short courses in gene therapy manufacturing and analytical methods, which were developed with support from the National Institute for Innovation in Manufacturing Biopharmaceuticals (NIIMBL) and the AIM-Bio Program.
"It is great to see NC-VVIRAL working hard to maintain strong ties with the key centers leading innovation and academic-industry networking in North Carolina: the Biomanufacturing Training and Education Center (BTEC), the North Carolina Biotechnology Center, and NC Biosciences Organization," says Gary Gilleskie, executive director of BTEC.
To further their outreach, NC-VVIRAL has also partnered with the North Carolina Biotechnology Center (NCBiotech), a nonprofit headquartered in the Research Triangle Park (RTP), and the North Carolina Biosciences Organization, which collaborates with NCBiotech whenever possible. These organizations will help NC-VVIRAL host events such as an annual research symposium and workshop.
"They'll get us in front of the community in North Carolina that's working on gene therapies and viral vaccines and help us raise awareness of the work that we're doing to the local community so we can start collaborating on new technologies," Menegatti says.
Involving Industry and Increasing Inclusion
North Carolina is home to 775 life science companies, close to 600 of which can be found in the greater Triangle region alone.
Tens of thousands of Triangle workers are employed by these companies already, and with recent and future expansions by big businesses such as FUJIFILM Diosynth Biotechnologies, a world-leading contract development and manufacturing organization (CDMO) that works to manufacture biologics, vaccines and advanced therapies, the industry is only continuing to grow.
FUJIFILM Diosynth Biotechnologies, which already has a 62,000-square-foot facility in RTP, plans to open a $2 billion site in Holly Springs, North Carolina, in 2025, which will be North America's largest end-to-end cell culture CDMO biopharmaceutical manufacturing facility. The new facility will house more than 700 employees, making it the largest monoclonal antibody manufacturing plant in the world.
NC State and FUJIFILM Diosynth Biotechnologies have had an existing training partnership for some time, which matches business needs with university talent and research; hundreds of its employees have completed advanced training through BTEC.
Last year, NC State expanded its strategic partnership with FUJIFILM Diosynth Biotechnologies, which in 2011 acquired Merck's BioManufacturing Network, including its facilities located in North Carolina (Diosynth RTP, LLC).
In addition to Merck KGaA, NC-VVIRAL has brought Bio-Rad, Avantor and Sartorius on board as industry members — all of which have a global footprint, including locations in the Triangle.
Over the coming months and years, Menegatti and Daniele hope to recruit more members and, in turn, hire more students.
To this end, they've come up with a concept they've coined their "Innovator Passport."
"We're connecting with local and global industries by offering memberships through our 'Innovator Passport' to ensure the strongest impact of NC-VVIRAL on both clinical and biotech fronts," Menegatti says.
Depending on how much they want to contribute annually, there are three tiers that companies and other organizations can choose from: Member, Collaborator or Partner.
Those who join at the Member level gain access to workshops, in-lab equipment demonstrations and training, and other benefits of the NC-VVIRAL network. In addition to these benefits, the Collaborator level also grants attendance to an annual recruitment day and allows for participation in the review and assessment of research results or training activities.
And both Collaborators and Partners get the opportunity to propose senior design projects, which will be assigned to teams of undergraduates studying chemical, electrical or biomedical engineering. These research projects will be supervised by an industry member along with at least one NC-VVIRAL faculty member and Ph.D. student each. Becoming a Partner also brings the added benefits of being able to request and aid in the design of customized training modules.
The more industry support they secure and members they bring on board, the more students they can offer experiential learning opportunities to. While all of their students are currently from NC State, Menegatti and Daniele expect to eventually recruit students from Duke, North Carolina Central University, North Carolina A&T State University, UNC-Chapel Hill, UNC Greensboro, and other UNC System schools. And Menegatti and Daniele also already have relationships with instructors at Alamance Community College, hoping to extend these invaluable learning opportunities to as many different students as possible.
"My assumption is always that talent comes from anywhere, so we have to make sure that everyone gets invited to the table," Menegatti says. "The gene therapy revolution is not just a scientific revolution. It's a societal revolution that besides benefiting patients, has the potential to elevate everyone involved in their production."
This post was originally published in NC State News.