GES Center to launch NSF-funded graduate program on impacts of AgBiotech
With challenges related to food, energy, and water becoming increasingly complex – and urgent – NC State University's Genetic Engineering and Society (GES) Center is taking a new approach to preparing the scientists who will solve them. With support from the College of Agriculture and Life Sciences, the College of Humanities and Social Sciences and the university provost, plus a $3 million grant awarded this week by the National Science Foundation's Research Traineeship (NRT) program, center leaders and other university faculty members plan to implement a program called AgBioFEWS, or Agricultural Biotechnology in Our Evolving Food, Energy and Water Systems (award number 1828820). Go to AgBioFEWS Home Jim Lewis, acting assistant director for NSF's Education and Human Resources Directorate, says that AgBioFEWS and the 16 other projects selected for this year's NRT grants are "helping change the landscape of graduate education and better prepare future STEM scientists for diverse careers." As NC State's Fred Gould explains, AgBioFEWS will encourage what has come to be known as convergence – learning that integrates diverse ways of knowing from humanities and the natural and social science fields to address problems too complex for a single discipline. Gould, the project's principal investigator, is a University Distinguished Professor with NC State's Department of Entomology and Plant Pathology and co-director of the GES Center.
'Interdisciplinarity on Steroids'
AgBioFEWS aims to deepen students' technical understanding of agriculture, ecology, and genetics while also integrating knowledge of other fields at play when it comes to building agricultural biotechnology solutions. It's not enough, Gould says, for a technology to work. It also has to avoid unintended consequences that can occur when ecological, social, economic, ethical and political issues aren't considered. Gould says he sees the training program becoming an important piece of the North Carolina Plant Sciences Initiative. That research, teaching and extension outreach effort is designed to make North Carolina the world's leading plant sciences hub. AgBioFEWS also builds on two other NC State efforts: a previous NSF-funded interdisciplinary graduate student program that focused on genetic pest management and the Chancellor's Faculty Excellence Program, which is bringing world-class faculty from diverse fields to the university. Faculty from at least six of the multidisciplinary areas that are part of the chancellor's program, as well as representatives from the nonprofit organizations The Nature Conservancy and Sound Rivers, will participate.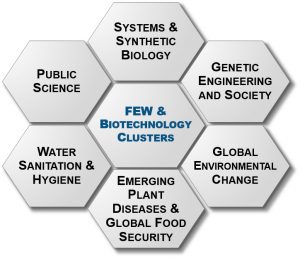 "This is interdisciplinarity on steroids," Gould says. "It's fields coming together to solve problems — not just by bringing disciplines like agriculture, ecology, and genetics together, but also by using the social sciences and humanities to really get at issues that none of them alone are able to deal with."
Learning Convergence
When AgBioFEWS gets started next summer, seven to 10 Ph.D. students will live for two weeks in Northeastern North Carolina, where both natural resources conservation and agriculture are critical to the economy. There, the students will interact with farmers, extension educators, conservationists and others to consider their interests, needs and concerns. That will give students important insight into how the biotechnology could help them reach their goals — or become problematic. Those Ph.D. students will continue with coursework and other activities to learn genetic engineering techniques, agriculture, policy analysis, science communication, and other knowledge and skills they need for careers in government, industry, international development, and academia, Gould said. The project will also offer AgBioFEWS coursework that builds on NC State's Genetic Engineering and Society graduate minor, as well as an emerging graduate minor in public science. In addition, undergraduate and master's students from two historically black universities will be invited to do internships at NC State labs with the goal of recruiting them to the program. "What we're after with AgBioFEWS is to look deeper into all these developing agricultural biotechnologies," Gould says. "This is a team effort to train our students to be very agile at using convergent knowledge for problem solving." A version of this post originally appeared on NC State CALS News